Invented by Miss Kim Rub! Much copied since 2012. Very proud to have created a revolution in fetish clubbing. I had a bright idea…here is the history of Rubber Cult.
TICKETS for Oct 21st 2023. Schedule of events.
Started with how I'd noticed far too many fetish event promoters were letting standards slip, and allowing people in their fetish event in regular clothes. What we needed was a STRICT fetish event! One where people could not cheat.
Rubber Cult was started by myself in 2012. It briefly closed down in 2018…read more about it at the end.
The idea for a rubber-only event was only ever mine – history in the making
Fortunately for me, my friend JanFetishClubPix already had the domain name Rubber Cult, and instantly said he would love it if we used it. I can't lay claim to coming up with the name, but I can everything else. In fact, if you were wondering what the Semana Santa (KKK look) photo is all about. We started the event off with some performance art at Antichrist (me below) and Torture Garden, as the 'Penitential Order of Rubber Cult'. It was a performance art group started, before Jan gave me the name for my club.
Inventing a brand new format in fetish clubbing was the sort of innovative thing I loved to do; so no DJ's with banging music and running till the early hours was all my idea. I'd pretty much planned it all out when I asked Synth if she would like to be my partner. Even though she was a lot younger than me, we were in this together and that meant 50/50 split on everything.
Club promoting was not my hobby having run Club Rub for a total of 22 years
Purposely the entry price Rubber Cult very made affordable, even though with no regular day-job for either of us, we had to make this work. I wouldn't have ever wanted to run a tiny event, so RC had to be a certain size to sustain both of us. Club promoting was not my hobby, it was my day job, having run Club Rub for 17 years, at that time I started RC. We were just a small independent, enthusiast-run event. Currently, at £35 in central London, in the most amazing venue, it's a bargain.
Every venue we'd ever used in the past, I found and secured with my history in fetish club promoting and expertise. As a regular fetish club promotion (on a monthly basis), means they took me seriously. Some had even heard of me. Reputation is everything. Our first venue was Shillibeers, and I had known the management 15 years. Perviously using this one, and one of their other venues too.
Fashion show at Shillibeers by Breathless Latex – History of Rubber Cult
Plus I had a huge database of email addresses, from running Club RUB (at that stage 17 years) on a monthly basis. It's very easy to think an event can be launched on the back of social media mentions, it's another thing to achieve it. Saying that, there is always a place for smaller events.
My fully equipped dungeon meant that we didn't have to think about that when starting off. When the closure happened, I donated eight pieces of equipment to Malcolm, a dungeon rental guy.
First logo design was from my darling friend Juju, an extremely talented pervy artist. The second text-only (below) one we chose together, as we wanted something simpler to add to photos. However, since RC closed and reopen (for only 10 months) I've rebranded with a new website and logo (on the website).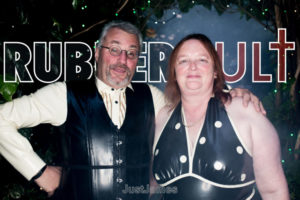 We even gave a glass of bubbly and a gift FREE at every event!
Fashion shows had always been a major part of the night! We tried our best to use UK designers only, although Sebastian Couch and Exxess Latex got in. Well, they're amazing. Breathless, House Of Harlot (Robin Archer), Dayne Henderson, TripleL, Libidex, Latex101, Cause Perdue and House of Harlot (Iris). Unfortunately now there is no backstage at the House of Magic, so fashion shows are out of the question.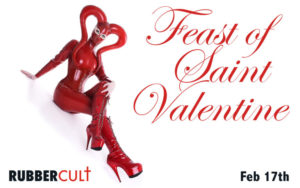 Each of our performance artists were require to do rubber-only shows; Charlie Bouquett, Marnie Scarlet, Apple Tart, Marie Devilrous, Fallen Angel, Lady Lola to name but a few of the ones from the early days. I'm responsible for booking Marnie over and over. I love her and it's not changed.
Sideshows were a main feature right from the early days
All manner of goodies, from the mattresses, to the vac cube, inflatable body bag, straight jacket, to the Libidex rubber bed. All these were sold when Synth left, so she could be reimbursed.
When RC was at the Alice Bar…it was huge. Important to us was something extra going on, additional to the stage shows; like my medical installation and dungeon. For these we needed a team of helpers like Miss Sensation (below), RopeSluts, Mistress Silk and Kitty Bliss, Pussy Willow and Mistress Phoenix in the dungeon. Currently the limited space (legal numbers) means that we are no able to introduce these idea back. Still, the amazing venue more than makes up for that.
Briefly RC closed down in 2018…after a sit down meeting with my then partner Synth, she told me she no longer wanted to be a part of Rubber Cult. In fact, she had a very good reason to leave, she wanted to now pursue her own art career. Rubber Cult was never her idea, even though we were partners, I'd asked her to join me straight out of university, where she studied contemporary art.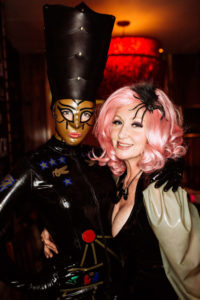 Thank you Simon being part of the history of rubber clubbing
Upon hearing that Synth had left and I had close Rubber Cult down, my long-time friend Simon Drake ask me if we could do it together. It took a little thinking about, but I think it was a great idea to keep RC going. After all, I'd invented rubber-ONLY fetish clubbing! It didn't exists before I started the quarterly Rubber Cult club. Even won a trophy for BEST Newcomer at the Berlin Fetish Weekend 2014.
Master Drake and I now operate twice a year…spring – April and autumn – October. There are always stage shows and a chance to meet up with fellow rubberists. It's October 21st this year. Photos from April 15th here.
Our regulars are Mistress Patricia, Master Somers, Darren Black and the stage acts we choose
In conclusion, one works with what ones got! And what a lot we've got, with the House of Magic. Of course, you are only ever as good as the crowd you attract! Did you see our past galleries???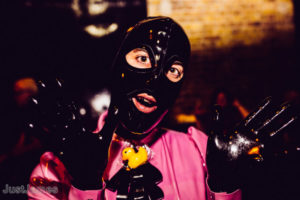 Miss Kim Rub 💋