First act is entitled Asylum. Marnie has gone mad with this Halloween inspired performance.
Straight from the sanatorium. She's mad bad and dangerous to know, she will break free steal your heart and make a nice hat out of it!
Marnie Scarlet is the Queen of Macabre cabaret! Renowned for her spooky shows and larger than life looks, Marnie will scare, terrorise and disturb you.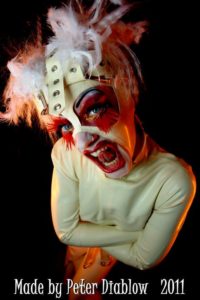 Marnie combines cabaret with drag, circus and burlesque, also throwing elements of fetish and performance art into the mix.
A freak of nature she embraces humour and worships the darkness, with elements of comedy in her shows, as well having slightly sinister and morbid aspects to her acts.
Marnie will perform two separate shows for us, the first at 10pm and the second at 10.30pm…so keep our seats folks, as it's a very quick outfit change!
Show number one is entitled Asylum!
Photo by Peter Diablow.
There are cabaret tables and chairs in front of the stage and a small dance for wriggling about to house music, just before and after the shows. Atmospheric music will play for the first few hours as folks are arriving.
Please arrive as early as you can, we want you all to enjoy maximum time in your latex attire…dress to impress.
There is a cloakroom for coats and bags, and the drawing room upstairs is where you can get changed, but come early for that! Not in the toilets please, they are way to small.
Drinks may be purchase from the pay bar and smoking is outside in the private enchanted walled-garden.
The address of the venue is given at the time of purchase. Please do not post the address online.
Miss Kim 💋 and Master Drake 🎩