Showgirl and all-round performer Polly Anther combines all the sweetness of a sugar cube, and the danger of a razor blade. Both sharp as a knife and cute as button, she will have you mesmerised when she takes to our stage.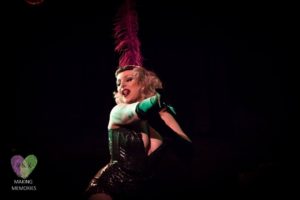 Pretty Polly Anther – Act one: Shine n' Grind
This show is a perfect marriage of fetish, rock n' roll, with a dose of classic bump n' grind. Our tattooed temptress is guaranteed to please, striptease and tassel twirl her way to your heart!
Pretty Polly Anther -Act Two: Fucks Given – Nun!
In this performance, she is the very naughty nun who asks "Forgive me Father, for I know not what I've done". In a desperate attempt to repent, this naughty nun strips herself of her sinful ways (and clothes) and punishes herself in the most painful way – eek! on a bed of nails.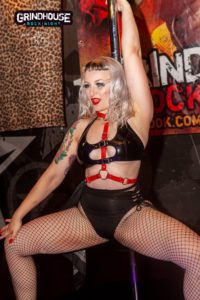 This is Polly's London debut and we are thrilled to have her join the Rubber Cult Halloween Special.
Miss Kim met Polly when she came along to do a Latex Workshop a couple of years ago. Since then Polly has graduated as a fashion student up north in Darlington, and also added performance art to her creative pursuits, including pole dancing.
Polly's social media:
Please follow Rubber Cult on the following social media:
The event conception of Rubber Cult came from Miss Kim. Read more about the Cult's seven year history. Read all about the Return! Finally read about the future.
Miss Kim x