As you step through the gates of the House of Magic on October 26th from 7pm, and you will be transported into the most magical Enchanted Garden. This is a photo of the actual garden!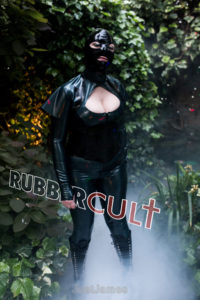 Beware of what is lurking in the shadows, as you walk through the mist. After all, it is our Halloween Special and we WILL have creepy mist.
Once inside the House of Magic you'll be amazed…NO, REALLY!
Therefore, the garden is a great place to cool off, have a smoke or scare each other in the under growth! Don't go anywhere you shouldn't or you may fall in the pond, or be carried away by zombies.
Walk through the trailing ivy, marvel at the twinkling fairy lights, you feel like you're in a tropical forest, complete with eery music and things that move in the undergrowth.
Enchanted Garden is a great chill out area with seats
There are a few seats in the outdoor area for those that are feeling a little faint at the spectacle of it all.
Please follow Rubber Cult on the following social media:
The conception of Rubber Cult came from Miss Kim. Read more about the Cult's history. Read about the Return! Read about the future.
Miss Kim x