Back by popular demand is Ms Apple Tart with her very funny latex Charlie Chaplin show. For those of you that saw it the first time around, there are a few changes. For those that didn't, what a treat you are in for on October 26th 2019.
Latex Charlie Chaplin is a very funny act
Her Chaplin suit is totally made of rubber, right down to the bowler hat. The choreography and mannerisms are textbook Charlie Chaplin.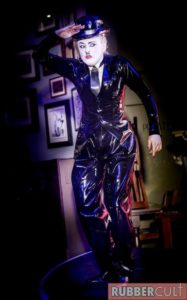 Apple has been a performer of the London stages for nearly 10 years now and has performed for us once before at Rubber Cult. Ms Tart also performed at the very last Club RUB at The Alice.
Therefore, we are thrilled and delighted to have her back again.
Total latex Charlie Chaplin
The second show from Apple Tart is smashing! It's so dangerous and potentially a blood bath, I can't say anymore, or even show you a photo!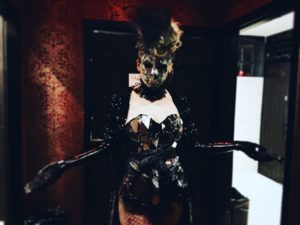 Just so you can get a feel for this very talented performer, here is her bio: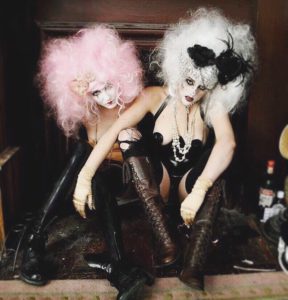 Please follow Rubber Cult on the following social media:
The event conception of Rubber Cult came from Miss Kim. Read more about the Cult's seven year history. Read all about the Return! Finally read about the future.
Miss Kim x